From Handshake to Hired (4 min read)
By: Kenny Natterer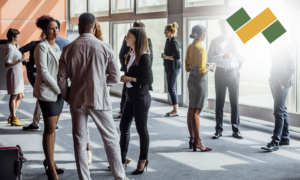 If you described your typical conference experience, we'd be willing to wager that some of your key words might include: fun, food, refreshments, speakers, booths and late nights. These connotations are not groundbreaking, nor is the novel concept of putting on your recruiting hat at industry conventions. Maybe we can suggest looking at conference recruiting with a specific concept in mind…. spending Quality Time with your future recruits.
On the surface, recruiting at these conferences can sometimes seem trivial. You know, show face, shake hands, appease those up the corporate ladder. Do not fall victim to this mindset! Use these conferences as a rare opportunity to take advantage of quality time with your clients, vendors, peers, AND potential recruiting targets…. all in one place!
Listed below are some possible focus items to help maximize your conference recruiting efforts.
At The Conference:
What motivates them? After a drink and an appetizer, you need something else to talk about beyond the pleasantries of nice weather and the somewhat questionable financial quarter your group is having. Maybe consider engaging in deeper conversations with your boothmate. Pick up on non-verbal cues and dare to go beyond the surface to better connect with your recruit and learn their true motivations. Begin to understand their interests and hobbies. What do they do for fun? Do they like to play chess or checkers? Anything but work. This can be a differentiator later when your competitor does not truly understand the candidate's motivational mindset.
Gain strategic insight… What are your competitors doing on the recruiting front and how can you better compete? Sometimes the best way to find out is to ask the person in front of you. How are other companies impacting the recruiting landscape? What can your group be doing better to attract the best industry talent? We are not suggesting you do anything that does not align with your company culture. We are suggesting understanding what you're up against and adjusting your internal recruiting strategy accordingly.
Plant that seed…Capitalize on your face to face meetings to help set yourself apart. Ideally you can spend quality time together offsite or at least create one-on-one contact away from the fray. Be authentic. Be mindful of personal and company branding. Build and project your group's marketplace presence. Help that potential recruit understand that your group is THE destination they should be considering when the time is right for a move.
After The Chaos:
Okay, you're back from the big conference. The business cards have been slung, the hands of been shook, the babies have been kissed. Now What? You might consider fostering your investment of time and energy by building upon the recruiting groundwork laid.
Targeted follow up can really make a difference when interacting with prospective recruits. You can start by simply sending a handwritten note or making a post conference phone call to a new or existing connection. These time-tested methods are a great way to stay in front of recruits. Maybe even set a monthly or quarterly calendar reminder to reach back out and say hello. In fact, if you went beyond the surface level conversations as we suggested above, you can build upon what you've learned by referencing your new insights which will strengthen the candidate relationship.
For a slightly less traditional approach, you might also consider getting in touch on Social Media Outlets, i.e. following the recruit on LinkedIn, X (Twitter), Facebook, Instagram, etc. These resources are a nice venue to help stay abreast of key life events and happenings that may be of interest to your new connection. Maybe they will even follow you back!
Most importantly to note in your post conference activity is that Recruiting is an Ongoing Effort. Think of recruiting in terms of long-term strategy with relatively short bursts of immediate action in times of need. The market insight and relationships you may have gained from the fall conference season should hopefully produce results in the winter months. If you need help…feel free to give us a call.
Anderson|Biro is a full-service, Executive Search firm dedicated to the Financial Services sector around the country. We source talent to service all aspects of the Land Title Insurance, Settlement, and Appraisal industries. We offer quality solutions for clients in these primary fields and beyond. Our candidates are screened for specific industry experience, outstanding track records, and values that complement your mission and culture. We have also built successful partnerships with leading Homebuilders, iBuyers, Fintech, Servicers, Law Firms, Real Estate Brokerages, and Lenders with direct or indirect stakes around the real estate closing table.