Office Politics...Don't Take Debate!

(4 min read)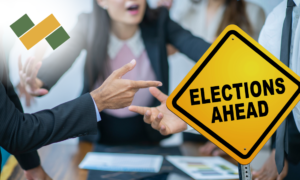 Election years can unfortunately be a time of great political division. One does not necessarily need a crystal ball to predict that from now until November 2024…it could be another ideological doozy. But if we may offer a word of caution, please don't let that potential vitriol spill over into your workplace. Frankly, if you're not careful, office politics can become a major distraction and even lead to serious personal and personnel conflict. This can be even more challenging when you're recruiting new team members, especially as you attempt to foster a positive and welcoming work environment for everyone.
So, as the election cycle heats up, here are some basic tips for maintaining office (and any other place you may choose) harmony during a potentially controversial election year:
Be mindful of your words and actions. If the topic of politics does arise at work, it's important to avoid making inflammatory statements or jokes that could offend your colleagues or potential new hires.
Be respectful of others' opinions. Even if you disagree with someone's political views, it's important to be respectful of them. Avoid name-calling, insults, or other personal attacks.
Focus on common ground. When you're talking to someone and it becomes clear that you hold different political views, try to focus on the areas where you do agree. This will help to build mutual understanding and rapport.
Avoid gossiping. Gossiping about your colleagues' political views or comments can only make things worse. Like your mother may have told you, if you don't have anything nice to say, then don't say anything at all.
Be a mediator. If you do observe work colleagues arguing about politics, maybe try to step into the situation. Help them to see each other's point of view and find common ground. Even better still, help them change the subject as quickly as possible!
Report any inappropriate behavior. If you see or experience any serious inappropriate behavior related to politics, such as harassment or discrimination, it's important to discuss it with your manager or HR department to help prevent things from getting out of hand.
What about looking at bringing in outsiders you ask? Recruiting talent tends to bring in new personalities and personas.
In today's world, it goes without saying that new hires tend to pick up on existing office culture and politics rather quickly. Specific personal and/or political beliefs should really not be a prerequisite to employment with your company. Frankly, your company should have an easier time attracting and building a well-rounded team if it's able to present potential new hires with a neutral political environment and company culture.
Thus, it could be useful to set a precedent somewhat early in the hiring process that establishes your company's stance on these matters. To that end, here are some actions you may take to help set that precedent:
Be clear about your company's values. When you're recruiting new team members, find a way to outline as directly as possible your company values. This might include your commitment to diversity, inclusion, and respect for all employees, regardless of their political views.
Highlight your company's culture. When you're marketing your company to potential new hires, maybe lead with your key cultural tenets. This can include the importance of teamwork, collaboration, and fostering a positive work environment.
Be transparent about the political climate. If you're concerned about the election year or a controversial issue on the ballot, be transparent about it with potential new hires. Let them know that you're committed to maintaining a positive and productive work environment, regardless of their political views.
Offer opportunities for professional development. When you're recruiting new team members, highlightyour commitment to the growth and success of your employees, regardless of their political views.
Be mindful of your hiring practices. Make sure that your hiring practices are fair and unbiased. This means avoiding discrimination based on political views.
Create a welcoming environment. When new team members join your company, make sure they arrive knowing not only that their views will be respected, but also how they should reciprocate that same respect to others.
We know what you might be thinking, "some of these points don't apply to me or my group." Well, that's fair. However, even if your company culture tends to lean in a certain political direction, the chances that every single team member at your company is going to agree about every major political issue is virtually impossible. Many of the most contentious political issues have been around for decades, if not centuries or longer, and show no signs of going away anytime soon.
So, to help maximize your team's productivity, cohesiveness, and ability to grow, please don't let political division over political issues adversely affect your bottom line or limit your potential candidate pool. A wise man once said, "A fanatic is someone who can't change his mind and won't change the subject." So, as we move into another potentially cantankerous election year, it is recommended that you remember to leave your politics outside of the office and work to change the subject back to the business at hand!
Anderson|Biro is a full-service, Executive Search firm dedicated to the Financial Services sector around the country. We source talent to service all aspects of the Land Title Insurance, Settlement, and Appraisal industries. We offer quality solutions for clients in these primary fields and beyond. Our candidates are screened for specific industry experience, outstanding track records, and values that complement your mission and culture. We have also built successful partnerships with leading Homebuilders, iBuyers, Fintech, Servicers, Law Firms, Real Estate Brokerages, and Lenders with direct or indirect stakes around the real estate closing table.